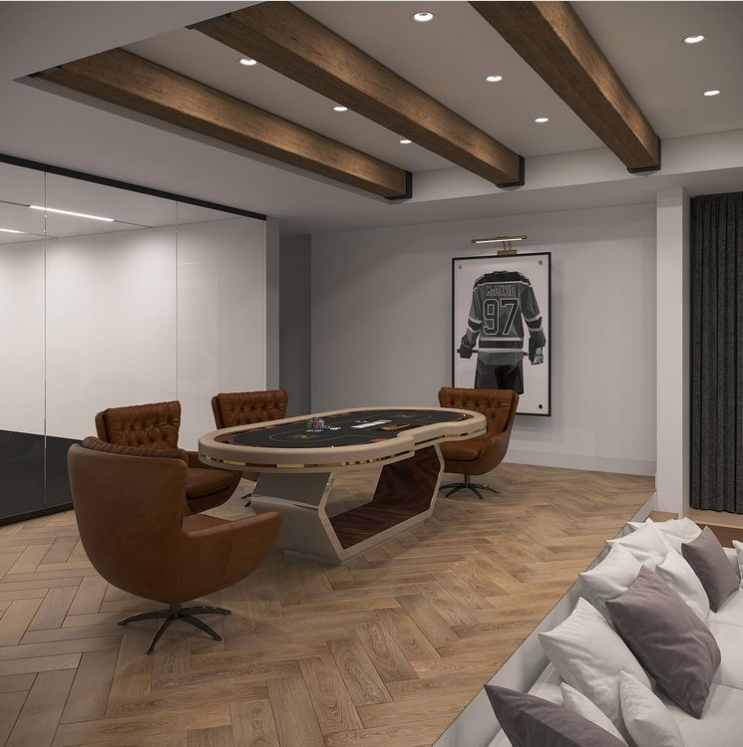 We've written prior about how to achieve excellent exteriors for your house. However, a house is also a home, and the interior is just as important. Increasingly, our domestic spaces are having to fulfill more functions than ever before. The culture shift to working from home, jet-propelled by the pandemic, means home office space has come into focus. Likewise, the digital revolution has made us place extra emphasis on spaces where we can indulge in our favorite entertainment without needing to travel to the cinema, arcade or casino.

They're also places we like to welcome friends to. A games room can be about passions personal and plural. For the sports buff, a home cinema system will furnish spectacular watch parties alongside the latest blockbusters. A games room can be a venue to gather groups together, perhaps for a regular Friday night poker game or simply to socialize. Let's take a look at some ideas to create an oasis of relaxation amongst the clamor that the modern home has to facilitate.


Technology


Whether you're looking for the latest in digital surround sound, or are a vinyl devotee who wants their turntable at the center of the action, it's important to plan for space. Wireless speakers mean that audio can come from movable positions, setting the tone for either background noise or bombastic effects. On a more analog room, perhaps eschew the flatscreen TV and instead invest in a projector. Neutral colored walls provide an excellent screen, help to create a feeling of relaxation and don't put off potential buyers in case you come to sell. Lights on dimmer switches can help set different moods and the recent innovation of LED strip lights can be located in strategic places to highlight a certain part of the room without breaking the ambience in the wider space.


Centerpiece furniture


A statement piece is perhaps the most important thing to go all in on for the room – it gives that games room its own personal identity. That linchpin could be a state of the art gaming chair for console or PC play. It could be a foosball table, or vintage arcade cabinet if the owner's playful proclivities are on a more retro vibe. A poker table offers flexibility both in space and budget – folding models are available, as are tables which convert into dining tables to fulfil varied evenings of entertainment. Serve sushi at supper and then try not to be the fish as the night progresses! Air hockey tables can work well in tighter spaces as they don't require the extra room on all sides that a pool table, say, would.



Accoutrements


To a certain degree, decor will be decided by the focus of the bigger ticket items in the games room. Sectional sofas are superb for sports watching as they allow everyone to squeeze in and make you feel like you're (almost) in the stadium. If the games room is a schlep from the kitchen, consider investing in a small fridge for snacks and drinks. Framed sports shirts are a traditional favorite and a foosball table could be complemented with retro soccer jerseys, which there's a growing market for. A poker table lends itself to Vegas-style decor – dark wood and leather touches make for timeless elegance (and can provide some camouflage for cable routing) and the Dogs Playing Poker print likely won't ever go out of style. For an air hockey, rather than a foosball table, vintage sticks on the wall can add warm wood to the room, and there are a whole host of cottage industry companies offering custom mounts.


Games rooms are coming back into vogue as the cost of living crisis continues to bite. Staying in is the new going out, it seems. Done well, they can add value to your day to day life. Done perfectly, they may well add premium to your property also.